Announcing...
Learn Torah From JTS Masters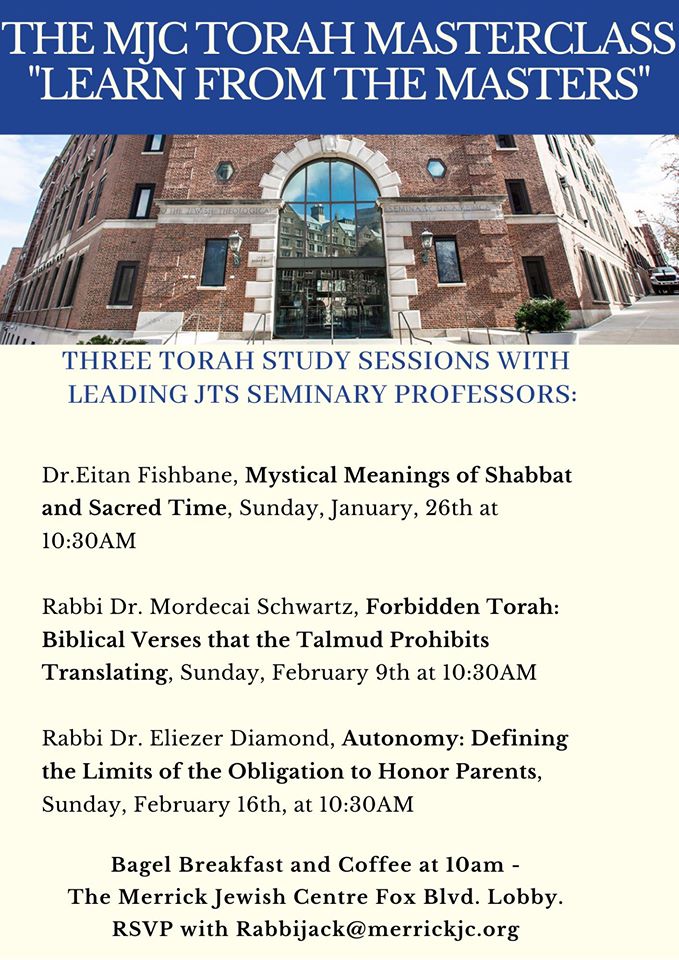 Credit Card/Debit Authorization for 2020
Once again it is time to fill out the necessary form to ensure that payments you make to MJC are credited correctly. Please click here to access the form and follow the directions at the bottom to return the form to the office. Thanks in advance for your cooperation.
Jewish Learning Opportunities for Teens Through Young Professionals
Rabbi Dermer is excited to share with you a virtual flip book he compiles which showcases some of the Jewish leadership opportunities and scholarships for teens, rising college students, current college students, and young Jewish professionals. His intention is to update this virtual flip book bi-monthly, keeping you and your families up to date on all of the upcoming avenues for our teens and young professionals to engage in Jewish leadership, here in the U.S. and in Israel, throughout the year. Click here to view the flip book.
Connect with MJC...
It's time to order Purim baskets. Just use your User Name and Password to log in to purimproject.com. It will even show you who you ordered for last year. It only takes minutes! Lost your info, no problem, email purimhelp@merrickjc.org. Someone will get back to you within 24 hours (except on Shabbat). Lastly we especially need deliverers in South Bellmore and South Merrick on the Hewlett Peninsula. Students can get a community service letter if they help deliver. If you can help, please email Joanne Skop at chantchaz@aol.com.
Packing: Wednesday, February 26 at 7:00 PM
Delivery : That evening through Wednesday, March 10 which is Purim
Just click on the icon above and log into AmazonSmile. Choose Merrick Jewish Centre as your charitable organization and each time you shop 0.5% of your eligible purchase will be credited to MJC.
MJC Current Bulletin
Tue, January 28 2020
2 Shevat 5780
Upcoming Programs & Events
---
This week's Torah portion is

Parshat Bo
Candle Lighting
Havdalah
Motzei Shabbat, Feb 1, 6:02p
Tu B'Shvat
View Calendar
Worship With Us
Morning Minyan
Monday and Thursday 6:30am
Friday 6:45am
Sunday 8:30am
Location: Center for Jewish Life (Please enter from Henry Street)
Daily Evening Minyan
Sunday to Thursday 8:00pm
Shabbat Services
Friday Evening 6:30pm
Saturday Morning 9:00am
Saturday Morning (Summer Schedule) 9:30am
Saturday Afternoon/Evening: check weekly calendar for exact time
Synagogue Office Hours
Regular Office Hours
Monday - Thursday: 9:00am - 5:00pm
Friday: 9:00am - 2:30pm
Summer Office Hours July 1st through Labor Day
Monday - Thursday: 9:00am - 4:00pm
Friday: 9:00am - 2:00pm
Tue, January 28 2020 2 Shevat 5780